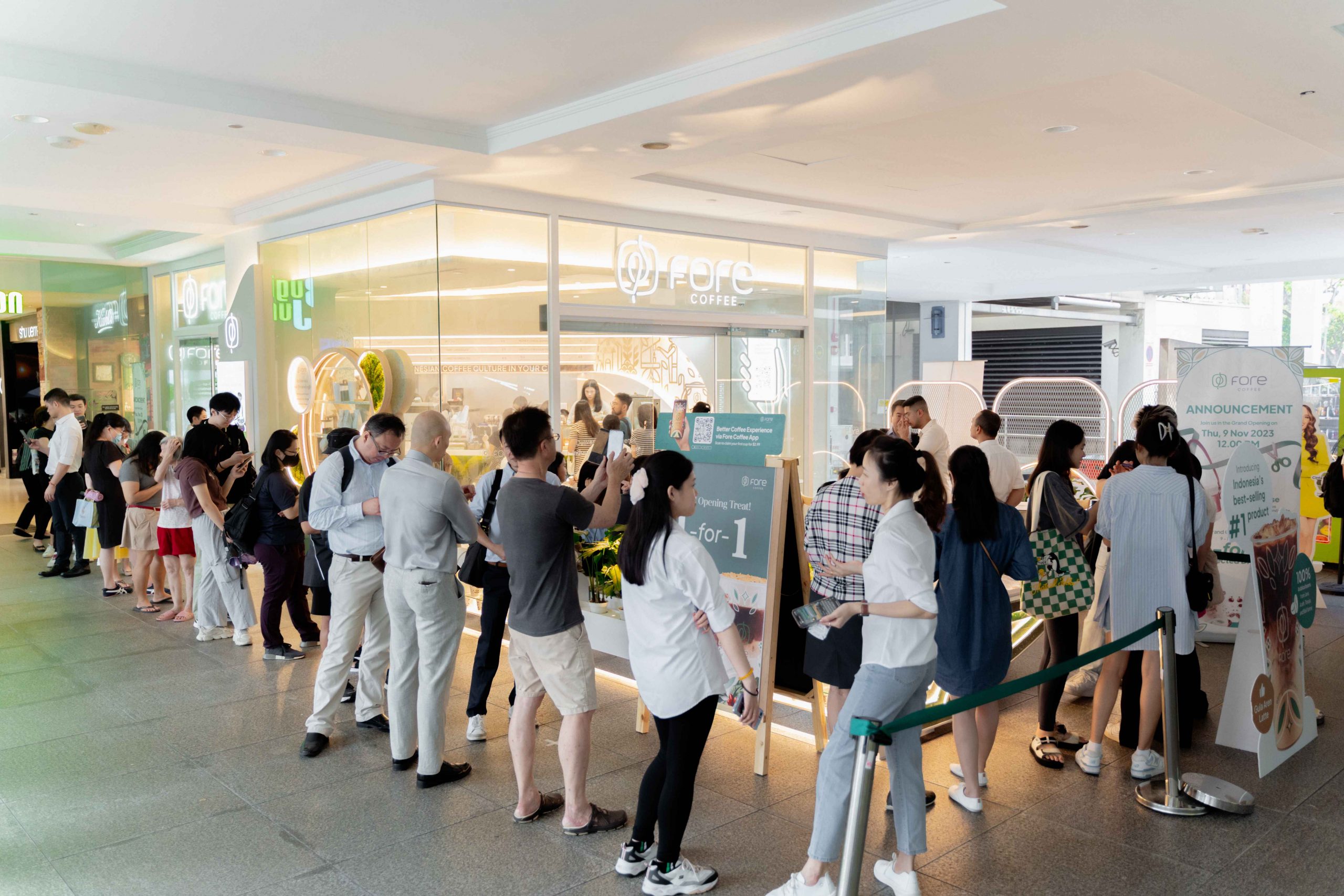 Singapore, November 13, 2023 – Fore Coffee, Indonesia's leading local coffee brand startup, officially opened its first international outlet in Singapore today (09/11). The grand opening that took place at Bugis Junction, L1 unit #01-14/14A 200. This new establishment marks a historic milestone for Fore Coffee, a brand committed to leading and advocating the rich coffee culture of Indonesia on the global stage. It signifies the beginning of Fore Coffee's next-level business expansion. The store operates daily from 07:00 AM to 10:00 PM SGT.
The momentous occasion was graced by the presence of key figures, including Vico Lomar (Co-Founder & CEO, Fore Coffee), Sandiaga Salahuddin Uno (Minister of Tourism and Creative Economy, Republic of Indonesia), Suryopratomo (Ambassador of the Republic of Indonesia to Singapore), Willson Cuaca (Co-Founder and Managing Partner of East Ventures), and Cinta Laura Kiehl (Social & Sustainability Ambassador). Together, they conducted the ribbon-cutting ceremony to inaugurate the store officially. Additionally, they enjoyed a traditional dance performance that skillfully combined choreography from West Java, Aceh, and Toraja, symbolising the diverse origins of Fore Coffee's select coffee beans from three different regions in Indonesia.
Singaporeans were curious, and enthusiastically wanted to be amongst the firsts to try Fore Coffee's signatures which resulted in a queue that snaked out of the store for 3 days last weekend. Fore Coffee Singapore shared that it successfully sold almost 3,000 cups of coffee, with TOP 3 best-sellers being Gula Aren Latte, Pandan Oat Latte, dan Butterscotch Sea Salt Latte.
In his opening address, Vico Lomar, Co-Founder & CEO of Fore Coffee, underscored the pivotal role of Fore Coffee's inaugural international outlet as an opportunity to celebrate the variety of Indonesia's coffee culture to coffee enthusiasts in Singapore. He stated, "Fore Coffee's first store abroad carries a mission not only to serve the all-time Fore Coffee's signature favourites, cherished by the Indonesian consumers, but also to provide a deeper understanding of Indonesian coffee and culture."
This sentiment was echoed by Sandiaga Salahuddin Uno, the Minister of Tourism and Creative Economy of the Republic of Indonesia, who emphasised the importance of promoting local products to boost Indonesia's tourism appeal. He stated, "I am happy to be here and to bear witness to the first Fore Coffee store outside of Indonesia. This is truly a memorable moment. Fore Coffee is committed to bringing Indonesia's best coffee to the world because we need more exports for our coffee beans. I sincerely hope that today we can start optimising this outlet to educate and familiarise Singaporeans with Indonesia's rich and beautiful coffee culture."
As an introductory gesture, Fore Coffee serves a selection of its signature beverages, already beloved by trendy coffee enthusiasts in Indonesia. The offerings include the Gula Aren Latte, Pandan Oat Latte, and Butterscotch Sea Salt Latte, with prices starting at SGD 4.50. These signature menu items have been reimagined with a fresh twist, tailored to the taste preferences of the Singaporean population through a series of Flavor Group Discussions (FGD). Nutri-grade levels have also been considered in crafting these recipes, ensuring enhanced flavours and mindful consumption.
The Fore coffee store consistently embodies the Fore coffee store standard in Indonesia. Constructed from 430 kgs of upcycled used Fore's plastic cups, the store also actively promotes Indonesian coffee culture through its dedicated educational corner and a rich infusion of Indonesian coffee culture. To further delight its customers, Fore Coffee is also offering special promotions exclusively for Fore Coffee's app first-time users in Singapore. The special pricing of SGD 2.99 is available for the first cup purchase. 
"Truthfully, our journey at Fore Coffee has just begun. We are committed to expanding and operating our international outlet sustainably. Our intention is to introduce the pride of Indonesian coffee culture to the world. The opening of our first international store in Singapore is a tangible demonstration of our dedication to making Indonesian coffee a part of the global lifestyle. We invite all coffee lovers and cultural enthusiasts to join us in celebrating this historic moment," concluded Vico.