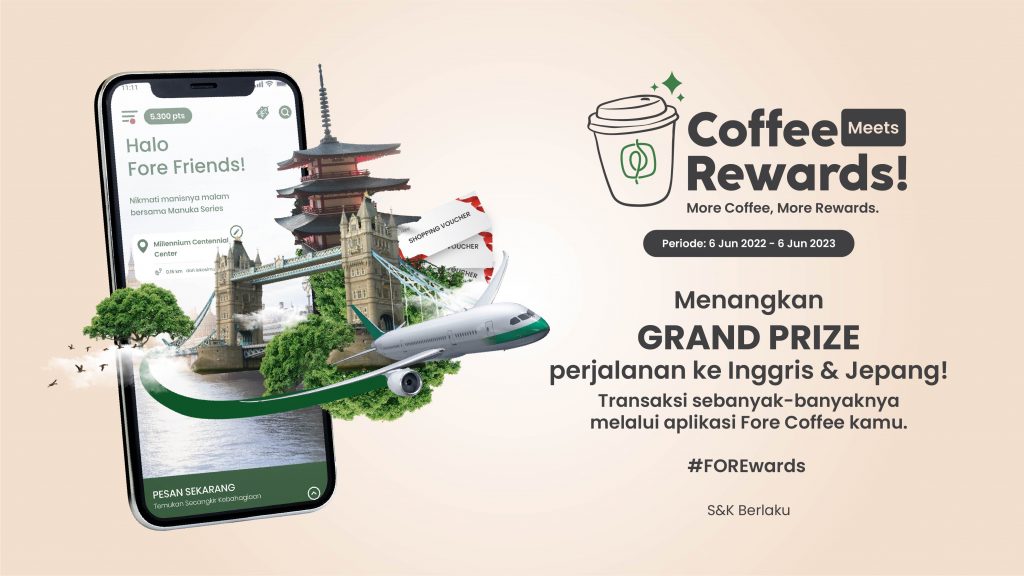 Check out the list of Fore Coffee's Top 50 Spender at the page below
More Coffee, More Rewards
Period June 2022 – June 2023
Get prizes from Fore Coffee for the Top Spender program for the period June 2022 – June 2023! The more Fore Coffee orders, the greater the chance to win various prizes from Fore Coffee with attractive prizes for trips to the UK, trips to Japan, Smartphones, Beauty Products, and many more. More Coffee, More Rewards!
Trip to UK (2 pax)

Grand Prize

Trip to Japan (2 pax)

2nd Winner

Smartphone

3rd Winner

Voucher Shopping

4th Winner

Beauty Product

5th Winner

Fore Gift Voucher IDR 1.000.000

Top 12

Top 12

Top 12

Top 12

Top 12

Top 12

Top 12

Free 1 Liter Fore Coffee

1-20 Monthly Top Spenders

Free Cup

21-50 Monthly Top Spenders
Terms and Conditions:
1. Program period from 6 June 2022 – 6 June 2023
2. Participation is only valid for Fore customers who have an account on the Fore Coffee application until June 6, 2023
3. The final announcement will be on June 6th, 2023
4. Announcements of the top 50 each month will be announced randomly on Fore Coffee's website
5. The final result is determined based on data from Fore Coffee and is absolute
6. The total final transaction value calculated is the transaction value after the discount
7. The transaction value is calculated only through the Fore Coffee application (not valid for transactions through direct stores or other applications)
8. Participation can only use one official account that has been registered in the Fore Coffee application
9. Customers who are proven cheated during the competition period will be disqualified
Good luck!
Last Update : 6 February 2023